Casper Mather and the history of Metlakatla

Casper Mather was born in 1876 in Metlakatla BC and passed away July 19,

1972 in Ketchikan, Alaska at the age of 97.

Casper followed Father William Duncan to Annette Island in Alaska with a few

hundred other Tsimshian to form New Metlakatla, Alaska's only reservation.

Casper himself, and his brother Rev. Paul Mather preached in Tsimshian and

English from the pulpit of The Native (Indian, at the time) Episcopal Church in

Ketchikan. Around 1920 Casper went to NYC to ask Archbishop Peter Trimble Rowe

permission to build another native church in Ketchikan, which became St.

Elizabeth Episcopal church on Deermount st. 

Casper and his brother  Paul were also packers on Chilkoot Pass during the

Klondike Gold Rush and were also guides to the US millitary during WW1. Later in

his life Casper ran a machine shop and a house foundation company.

He could also be found by the docks selling trinkets and totem poles and totemic

forks and spoons to the tourists off the ships till the day he died. He carved

his totems the way he remembered them, as any trace of the original works had

long since been destroyed by missionaries or shipped accross the continent to

Museums, so he did his best. Although by today's standards his works are crude,

they are the only link that kept the practice of Tsimshian carving alive. Modern

Tsimshian Master Carver Robert Hewson credits Casper with inspiring him to start

carving. The Tongass Historical Society honored him with an exhibition as one of

Ketchikan's most important people. Just before his death Casper was one of six

remaining founders of New Metlakatla, and was often quoted as saying "I am the

oldest living indian carver." He hiked up Deer Mountain every week to get wood

to carve well into his nineties. I am indebted to the Remember Alaskans website

for this information.

Robert Hewson remembers Casper Mather: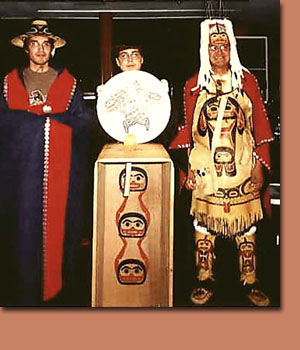 No picture available yet; this is brother Wayne Hewson and sons

Thanks to C.S. for compiling the above information.

  (sources differ as to the relationship between Casper and Paul Mather)

                From:  Chief Seattle Arts: Robert Hewson's biography

            Robert's first memories of artistic expression are musical. His

           father, Wesley Hewson, and his uncle, Ray Haldane, had a band that

           often practiced in the Hewsons' home. Robert's mother, Mary Haldane

           Hewson, was a singer who encouraged all her children to sing. Robert

           says, "Our home was always full of music." Later, Robert and his

           brothers would have a band of their own. He can still pull an impressive collection

           of harmonicas out of his carving tool kit.

Born in October 1946 in Metlakatla, Alaska, Robert noticed the dearth of Native visual art in

that town during his youth, "We had to go to the Trading Post in Ketchikan to see masks or

anything done in the Northwest style."

          Metlakatla is a unique community, founded by a group of Tsimsian

           families who emigrated from Old Metlakatla, British Columbia, in

           1887. They came at the urging of William Duncan, an English

           missionary who worked with the Tsimsian people for many years. He

           became disenchanted with the Canadian treatment of its First

           Peoples, so he traveled to Washington, D.C. to negotiate a treaty

           and reservation for the Tsimsian in the newly acquired territory of

           Alaska.

           When the 900 Tsimsian moved away from Old Metlakatla to a temporary

           site on the way to their new home in Alaska, Duncan told them that

           he had given up his old ways to go to Alaska, and that they should

           do likewise. As symbols of their old ways, they should destroy their

           masks and rattles, headdresses and robes. On the beach, the Tsimsian

           built a huge bonfire and burned thousands of precious objects, many

           that had been handed down for generations. After that there would be

           little public display of tribal art for many, many years.

           Robert remembers Casper Mather, a Metlakatla Tsimsian who made a

           living by carving, selling mostly to tourists. "He did the roughest

           carving you could imagine, but it had a power that I could feel. I

           wondered if I could do that too."

          copyright 1998  Paul Nicholson and Robert Hewson